Century 21 Preferred Realty Inc. was established in 1991. We pledge to serve our clients in the Hoboken area with the highest standards of professionalism, courtesy and responsiveness. Through years of innovation, service and support, CENTURY 21 Preferred Realty, Inc. has earned the loyalty of buyers and sellers who look to the firm for all their real estate needs. Our commitment to honesty, integrity and superior customer service exemplify our success.
We are the leading real estate specialists in Hoboken. Visit our Google My Business Hoboken Profile for more information and see our Google Reviews. 
Our Hoboken office handles all of the surrounding areas, including Jersey City, Greenville, Journal Square, Lincoln Park, The Heights, Union City, West New York, North Bergen, Guttenberg, Woodcliff, Fairview, Cliffside Park, Edgewater and more.
Hoboken Real Estate is currently in high demand, so whether you are looking to buy a new home or sell your current home, C21 Preferred will get you the best deal possible.
Whether you're thinking about making this thriving community your new home or looking to buy a home or sell your current home in Hoboken or the surrounding area, please visit us or call our Century 21 Hoboken Office location at  (201) 792-7601.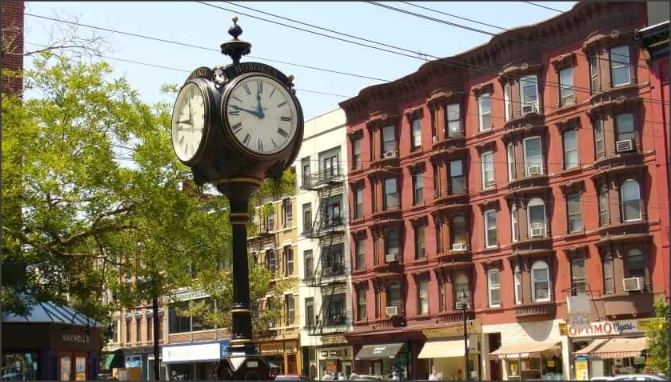 Hoboken, New Jersey is a small but thriving community. Located just across the Hudson River from Manhattan and other bustling urban areas, it has long been a popular place to live and work due to its proximity to the city and relatively affordable cost of living. Over the years, Hoboken's unique location and friendly atmosphere have made it an attractive destination for those looking to escape the noise and chaos of a big city without leaving behind all of the excitement and opportunities. Recently, however, this small town has experienced a new boom in popularity as more and more people seek its unique mix of convenience and tranquility. Whether they are young professionals looking for an ideal place to settle down or retirees looking for their next adventure, more and more people are discovering what Hoboken has to offer, making it one of today's most desirable destinations.